TSN, proud supporter of Special Olympics Canada since the network launched in 1984, will deliver expanded coverage of the Special Olympics World Games Los Angeles 2015 (#LA2015) as the event's official Canadian media partner.
"We broadcast a vast array of world-class events but there is nothing quite like the Special Olympics. They are a sincere reminder of the transformative power and joy of sport," said Stewart Johnston, President of TSN. "We're so proud to be a long-time ally of Special Olympics athletes and we wish the best of luck to Team Canada and the rest of the athletes in Los Angeles."
Star-Studded Opening Ceremony
Live coverage begins Saturday, July 25 at 9pm et on TSN2 with the star-studded Opening Ceremony from the historic Los Angeles Memorial Coliseum, site of the Olympic Games in 1932 and 1984. Host Robin Roberts, co-host of ABC's Good Morning America, is joined by ESPN's Lindsay Czarniak and Kevin Negandhi for the three-hour event, which will feature a global parade of athletes, musical performances, and guest appearances. Headlining the Opening Ceremony are First Lady Michelle Obama, Jimmy Kimmel, Stevie Wonder, Cody Simpson, Avril Lavigne, Eva Longoria, and many more.
Programming Highlights
Along with live coverage of the Opening Ceremony, TSN's programming lineup includes:
• Countdown to the Special Olympics World Games with Robin Roberts on Thursday, July 23 at 9pm et on TSN3, TSN4, and TSN5
• The 30 For 30 film Brave in the Attempt from Executive Producer Maria Shriver – whose mother Eunice Kennedy Shriver founded the Special Olympics in 1968 – on Monday, July 27 at 7:30pm et on TSN4 and TSN5
• Nightly highlight shows from July 27 to August 7 at 11 or 11:30pm et on TSN2, which will include interviews; athlete features, vignettes, and stories; competition showcase; and recaps of key results from each day's competition
In addition, SportsCentre and TSN.ca keep fans updated on key Team Canada performances and results throughout the week-long event.
By the Numbers via ESPN.com
Almost 50 years after the Special Olympics was founded, the renamed Special Olympics World Games will be the largest sporting event held in the United States this year (based on participants) and the biggest in Los Angeles since the 1984 Summer Olympics. Here's a look at some numbers behind the event and its growth through the years: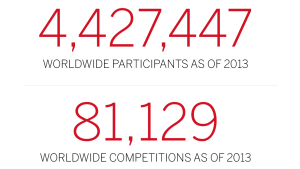 • International participation: Outside of the World Games, Special Olympics athletic competitions are held year-round worldwide. Since 2000, international athlete participation has increased 4.5 times. There have been 4.4 million worldwide participants as of 2013.
• World Games participation: Los Angeles 2015 will feature 2,000 coaches, 6,500 athletes, 30,000 volunteers, and an anticipated 500,000 spectators
• International events: In 2013, an average of 222 athletic competitions were held daily around the world, more than double the 2008 average of 90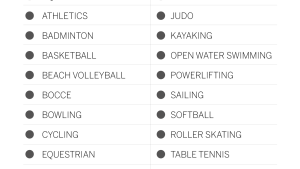 • World Games events: Several locations around Los Angeles, including USC and UCLA, will combine to host 25 sports. While many of them are Olympic-style sports, there are also non-Olympic events such as bocce, bowling, and roller skating.
• World Games Inclusion: When Los Angeles hosts the World Games, athletes, coaches, and families from 177 countries will participate. Between Unified events, which pair Special Olympics athletes with able-bodied ones, and Special Olympics competition, 290 events will take place in L.A.
Broadcast Schedule*
Thursday, July 23
• 7:30pm et (TSN) – 2014 Special Olympics National Summer Games
• 9pm et (TSN3, TSN4, and TSN5) – Countdown to the Special Olympics World Games With Robin Roberts
• 11pm et (TSN2) – 2014 Special Olympics National Summer Games
Saturday, July 25
• 8:30pm et (TSN2) – 2014 Special Olympics National Summer Games
• 9pm et (TSN2) – Special Olympics World Games: Opening Ceremony
Sunday, July 26
• 11pm et (TSN2) – Special Olympics World Games: Highlight Show
Monday, July 27
• 7:30pm et (TSN4 and TSN5) – 30 for 30: Brave in the Attempt
• 11:30pm et (TSN2) – Special Olympics World Games: Highlight Show
Tuesday, July 28
• 11:30pm et (TSN2) – Special Olympics World Games: Highlight Show
Wednesday, July 29
• 11:30pm et (TSN2) – Special Olympics World Games: Highlight Show
Thursday, July 30
• 11:30pm et (TSN2) – Special Olympics World Games: Highlight Show
Friday, July 31
• 11:30pm et (TSN2) – Special Olympics World Games: Highlight Show
Saturday, August 1
• 4pm et (TSN2) – Special Olympics World Games: Highlight Show
• 11:30pm et (TSN2) – Special Olympics World Games: Highlight Show
Friday, August 7
• 11pm et (TSN2) – Special Olympics World Games: Highlight Show
*Schedule subject to change